about blindfold, surrender and transformation
4 – In Darkness we become Visionaries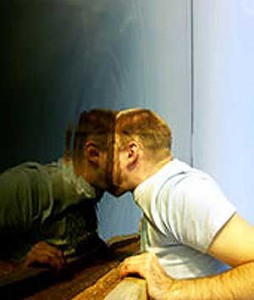 Only from a certain age, do children realize the difference between the inner and outer world, and between the self and the other. From that moment onwards, our fears start; the inherent loneliness of our earthly existence begins, together with the longing to return a the blissful state of oneness. By going into darkness, the mental chatter in our head reduces, and we can experience life as we originally found it: an ocean of energy, beyond form.
The essence is that, after some struggle and hesitation, you allow yourself to slowly sink into another world. At first, the ego will try to stay in control through a stream of thoughts and awareness of time, but after a while this resolves itself. Everything slows down, and it becomes more silent inside. The rational mind dissolves; you arrive in the present and become part of the whole again. You get in touch with the entire spectrum of your senses, and experience a deeper contact with yourself. Now you are in a position where you are able to enter a new and different future, as you envision it from your deeper self, instead of from rules, frameworks and regulations from others.
A possible definition of 'shaman' is 'someone who can see in the dark'. We find ourselves living in a time where the veils between worlds are thin, and in which everything accelerates. Now that modern man increasingly begins to rise beyond form, and contemporary shamans have shed their complex robe, often what is left, is the blindfold as the pure essence. A blindfold is one of the most important ceremonial tools to enter into sacred darkness.
Experience yourself?
5-day retreat