about blindfold, surrender and transformation
5 – The blindfolded dancer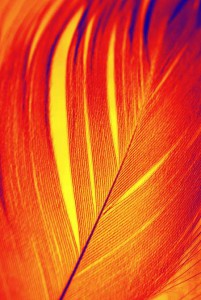 So here I am, sitting on the edge of my mattress. Because I know the value of the darkness well by dancing with a blindfold, I can easily surrender to it. I listen to the rhythm of my breath en stare straight ahead in the dark. Although I wonder for a moment, what day it is and what the time could be, actually, I don't really care. I am predominantly without thought and suddenly realize that the space between thoughts has increased enormously. I feel a profound sense of peace, which I have never experienced before, inside of me. A void has been created, in which there is space for a new vision, new insights and renewed inspiration.
The Darkness spoke intimately to me during the days I was in the dark. And she did not speak to my head, but to my heart. I have learned from her how to 'really' see; not with my eyes, but from the heart and other senses. I had the opportunity to intensively explore Darkness, and found her kingdom to be very familiar and safe. Ever since my return to the Light, I experience a new awareness of destiny and, among things, I choose now to be an 'Ambassador of Darkness'.
Just put on a blindfold, when you join us in a trancedance, and you will see: the empty void in the darkness, is an ocean full of memories and unimagined possibilities!

Aernoudt Knecht ©
Read more?
Besides my personal experience with Darkness, the book Darkness Visible, written by Simon Buxton and Ross Heaven, was an important source of information for this article. Highly recommended if this subject has your interest.
Experience yourself?
5-day retreat