about blindfold, surrender and transformation
3 – Sacred Darkness – then and now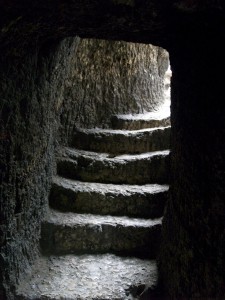 Our relationship with darkness has not always been that bad. Long ago, when our societies were not dominated by masculine principles; when feminine principles were still honoured and revered, we held many of our rituals mainly at night, and in huts or dark caves. We recognised the value and transforming power of darkness. Later, in the times of druids, the Celtic bards spent a lot of time in darkness. Also, during the Middle Ages, it was usually dark in monastic cells.
In our dances and rituals we draw inspiration from various cultures around us, in which the value of darkness is still recognized and where she still plays a significant role in initiations and rituals. For instance, among the Kogi, an shaman apprentice spends long periods in darkness, and in Voodoo people are also initiated with the aid of a blindfold.
In many shamanic cultures, a ritual begins when the sun sets, or when the hut is closed and participants have descended into the cradle of darkness. Also in our contemporary trancedance rituals, we wear a blindfold, so that the mind gets a chance to return to the original state, in which there is no longer any distinction between the self and the surrounding world.
Experience yourself?
5-day retreat